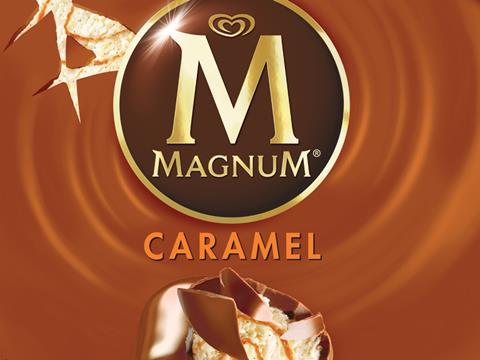 Unilever has set its sights on the desserts market with a new pack format for Magnum ice creams.

From next month, the core Magnum multipack range will be switching from three to four-packs as the company looks to make it more suitable as an after-dinner treat. Available to the in-home market only, the four-packs will have an rsp of £3.35 versus the previous £2.49 rsp for three-packs.

Unilever said ice cream had become a key part of one of the fastest-growing shopper missions - the 'meal for tonight' - which has grown 4% year on year [IGD Shopper Vista August 2014 and Him! 2014].

"By up-weighting the units per pack across our core range, we aim to increase the appeal of Magnum as a dessert option to share with friends after dinner," said Magnum UK brand manager Nicola Rolfe.

Unilever targeted the dessert market with Magnum ice cream tubs launched in 2012, but these have since been dropped from the range.

The company will also be extending Magnum next month with a Caramel variant featuring vanilla ice cream with a sea salt caramel swirl, covered in milk chocolate. Unilever is looking to tap the trend for salted caramel flavour - which earlier this month saw MARS launch salted caramel Galaxy chocolate bars.

Magnum sales have risen 6.1% year on year to £149.3m on unit sales up 8.2% [Nielsen 52 w/e 31 January 2015]. Last month, Unilever rolled out two new Magnum ­flavours - Pink Raspberry and Black Espresso, supported by a £13m marketing push.