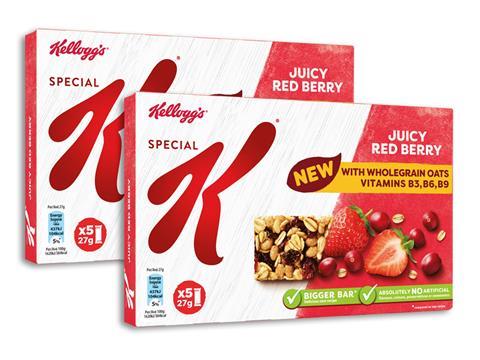 Kellogg's has given its Special K snack bars a major overhaul, replacing the existing lineup with a quartet intended to be better for you – backed by a £10m investment.
As part of the cereal giant's Better Starts plan to encourage healthier eating, four variants have been dropped in favour of Juicy Red Berry, Milk Chocolate, Apricot & Sultanas, and Dark Chocolate & Cranberries – rolling out this week.
Made with wholegrain oats and whole fruit pieces, the new bars have no artificial ingredients or added sugar. Fortified with ­vitamins B3, B6 and B9, they ­contain more fruit and promise a lighter texture.
Calories and sugar per 100g are on par with the previous variants.
As a result of the reformulation, the new bars are 26% larger than the original: 27g compared with 21.5g. The rsp of a single is still 55p, but the four-pack has increased to £2.49 from £1.99. However, Kellogg's pointed out the price per gram for the multipack was static at 1.85p.
The relaunch, including a new pack design, will be backed by the Powering You ­push, expected to reach more than 4.5m people through TV, social media and YouTube.
It comes after increased competition in a packed marketplace led Special K bars' value sales to plummet 22% over the past year to £21.2m [IRI 52 w/e 30 December 2017].
"Special K is all about championing health, nutrition & better-for-you options," said Michelle Hammond, Kellogg's marketing manager for wholesome snacks. Rather than simply "tweaking one or two ingredients" in the bars, the supplier had "completely transformed the brand's core snack range".