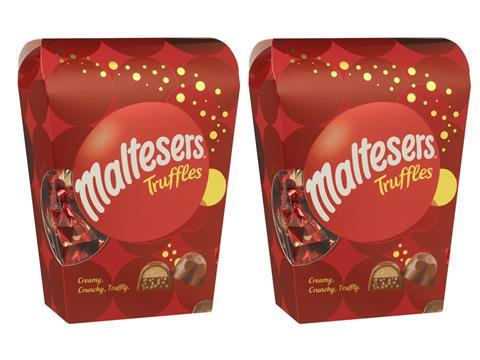 Mars Wrigley is taking Maltesers posh, with the brand set to make its debut in gifting this summer with Truffles.
The chocolates, individually wrapped in red foil, are made from the typical Maltesers milk chocolate and crunchy malted milk, with a new malty crème – similar to that in the Maltesers Bunny but lighter and "more indulgent" said brand director Rebecca Shepheard-Walwyn.
The result of two years' development, Maltesers Truffles are made by a third-party manufacturer in the UK rather than the Mars plant in Slough. They brought "the signature taste of Maltesers into a gifting proposition" Shepheard-Walwyn told The Grocer. "Within the gifting space, a lot of chocolates are quite stuffy. We wanted to appeal to a younger generation with a brand they know and love."
While Truffles chocolates are not spherical and come in a foil-effect box with a window, there is "still very much a Maltesers look and feel" to the NPD in three sizes – 54g (rsp: £1.99), 200g (£4.99) and 336g (£7.49).
Predicted by Mars to gain first-year sales of £20m, Truffles will land on shelf in mid-July along with Buttons, which was "unexpectedly announced" last week after it leaked online. Its disc-like chocolates with malt inclusions melted in the mouth faster than regular Maltesers, said Shepheard-Walwyn.
The new brand will come in four formats priced in line with the core range: single (rsp: 66p/32g), treat bag (£1.19/68g), pouch (£2.09/93g) and large pouch (£3.29/159g).
Buttons is expected to make £34m in its first 12 months, backed by a £1.3m spend from the summer as part of Maltesers' first-ever digital-only push – aimed at reaching 70% of UK consumers aged 16 to 44. Truffles will see £1.2m of support from around October.
The launches follow a disappointing year for Maltesers. The brand has seen its value sales slip by 1.1% to £174m on volumes down 5.1% [Nielsen 52 w/e 30 December 2017].