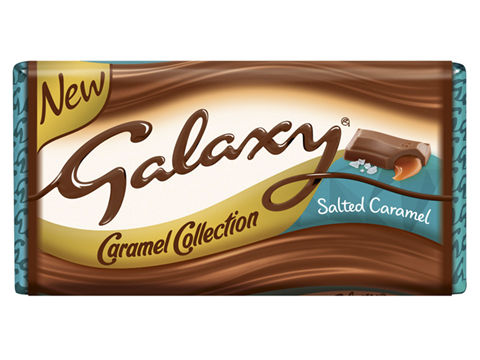 Salted caramel flavour has gone mainstream with the launch of a new Galaxy bar.
Available to retailers from 22 February, Galaxy Salted Caramel is a new permanent brand extension that will be sold as a single 48g bar (rsp: 60p) and a 135g tablet (rsp: £1.39).
"The salted caramel food trend is here to stay and we're confident the new bars are going to be popular among consumers wanting to try something different," said Mars Chocolate UK trade communications manager Bep Dhaliwal, adding the Galaxy brand would be backed by a £12m media campaign in 2015 including 44 weeks on TV.
Salted Caramel will be supported with point of sale materials including dumpbins, floor-standing display units, counter-top units and posters and wobblers. Mars has redesigned the Galaxy Caramel Collection – to which Salted Caramel belongs - to boost standout and differentiation between variants.
Meanwhile, the 2015 titles in the Quick Reads charity inititaive supported by Galaxy have been released.
Available from retailers including WH Smiths, Morrisons and Sainsbury's, the new £1 titles - which are designed for "busy people and less confident readers" - comprise: Paris for One by Jojo Moyes, Dead Man Talking by Roddy Doyle, Out of the Dark by Adele Geras, Pictures Or It Didn't Happen by Sophie Hannah, Red for Revenge by Fanny Blake, and Street Cat Bob by James Bowen.