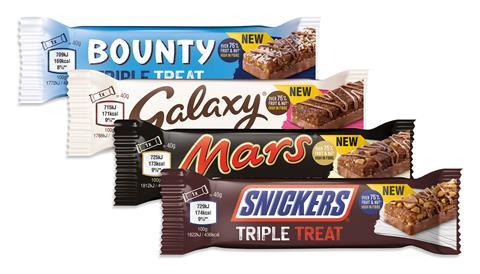 Mars will launch a new range of non-HFSS confectionery next month in the first major response to the new junk food laws by one of the big three confectionery giants.
The Triple Treat range consists of new editions of Mars, Snickers, Bounty and Galaxy bars, and will launch exclusively in Tesco stores from the start of June.
Each product is made of date paste, raisins and peanuts, and drizzled in chocolate.
They will ring in at 80p per 40g bar, making them 57% more expensive than their traditional counterparts. By comparison, traditional Mars bars currently rsp at 65p for a 51g bar.
The additional cost is due to the "very premium ingredients" such as roasted peanuts and dates, Mars UK GM Adam Grant told The Grocer.
The launch will be accompanied by a £1m ad campaign from the start of June, he added.
Other confectionery giants have so far been unable to launch new products that are compliant with HFSS rules. In 2019, Mondelez released Cadbury Dairy Milk 30% Less Sugar in an effort to become healthier, yet learnt that it fell foul of the HFSS rules when the criteria was confirmed two years later.
Mars has developed its Triple Treat range over the past 18 months to ensure it can continue placing confectionery in prominent store locations once the new laws kick in from October.
Its core range of confectionery – which also includes Maltesers, M&M's and Twix – will be banned from checkouts, store entrances and aisle ends along with other HFSS foods. The measures are designed to curb the UK's obesity crisis which costs the NHS £6bn a year in treating obesity-related ill health.
Mars is running trials with a number of retailers on how it can still "build excitement into the [confectionery] aisle" without these promotions, said Grant, adding Mars is "very much part of the leading edge of that because we're one of, if not the only, manufacturer who's able to offer solutions".
Alongside Triple Treat, Mars' range already includes HFSS-compliant Kind bars. It bought the snack bar company in 2020 in an effort to boost its health credentials. The New York Times reported the deal valued Kind at around $5bn.
Nearly all of Mars' chewing gum portfolio is also HFSS-compliant, including Wrigleys Extra and Airwaves. Hubba Bubba, however, is not.
Triple Treat is not the first time Mars has launched new products in response to emerging health trends. In 2019, it launched Galaxy Vegan to become the first major confectionery business to launch a fully vegan alternative. It followed this up with vegan Bounty and Topic bars two years later.
The Triple Treat range comes in the wake of the government's announcement that it will delay restrictions on HFSS multibuy deals and advertising. Public health minister Maggie Throup confirmed the delay on Saturday, stating it "will allow us to understand its impact on consumers in light of an unprecedented global economic situation".
However, restrictions on the placement of HFSS products in prominent locations in stores will still go ahead in October as planned, Throup said. It means junk food can no longer be promoted in key locations such as checkouts, store entrances and aisle ends, as well as their online equivalents.
Galaxy is Mars' biggest brand in the UK with annual sales of £229m in 2021, according to NielsenIQ [52 w/e 1 January 2022]. But sales are still recovering after a factory failure at its Slough facility in 2020 severely disrupted supplies. Prior to the disruption, sales had hit £250m in 2019 [NielsenIQ 52 w/e 31 December 2019].