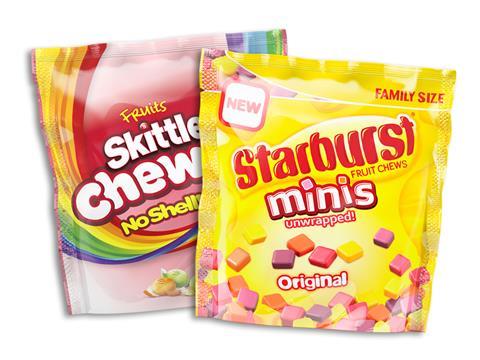 Mars Wrigley is set for its biggest sugar confectionery launch of the year: shell-free Skittles Chewies and wrapperless Starburst Minis.
The supplier's "first true texture innovation in 18 years" is aimed at growing the "underdeveloped" chewy candy sub-sector.
Skittles Chewies is described as regular Skittles without the shell, offering "a soft fruity texture" in the same flavours as the crispy original variant.
It would roll out in ­mid-August to satisfy people who found crispy Skittles "too sugary in terms of texture" said Daniel Newell, UK portfolio director for candy at Mars Wrigley. While they had been reformulated to have a slightly more ­"delicate" texture, they were "in essence" the same as a regular Skittles centre, Newell added.
Chewies is the first in a series of innovation for Skittles, with Fizzies and Jellybeans mooted for the next two years.
Also available to grocery from next month will be Starburst Minis: smaller Starburst without a wrapper.
The product had been "a massive success in the US" Newell told The Grocer. "It's a more ­grazeable format. You don't have to take the wrapper off; you just pop them in your mouth."
The result of two years' development, both new products are made in the Czech Republic. They will come in four pack sizes: 196g (rsp: £1.39), 152g (£1), 125g (pmp: £1) and 45g (rsp: 49p).
Mars Wrigley is predicting £16m first-year sales for the duo, which will be backed from around mid-September by a £2m digital push.
"We're never had [genuine] innovation in these two brands before," said Newell. NPD was playing a major role in driving incremental growth in the chewy candy market, he added.
"Mars realises that our products need to stay relevant to shoppers and retailers."