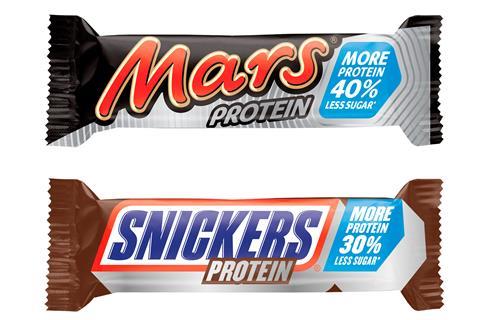 Mars Wrigley Confectionery has unveiled added-protein chocolate countlines designed to fill the gap between standard chocolate bars and high-protein sports nutrition.
Made with whey, Mars More Protein and Snickers More Protein (rsp: £1.29/47g-50g) contain up to 10.8g of protein per portion (23g per 100g), while sugar content is no more than 35.7g per 100g – as much as 40% lower than their core versions.
By comparison, 100g of a regular Mars bar has 4.4g of protein and 59.9g of sugar. And the Mars Protein bar added in May 2016 features 33.3g of protein per 100g and 22.8g of sugar.
First revealed last September by The Grocer, the latest bars' launch will be supported by a partnership with leading obstacle course race event Tough Mudder.
They came as protein remained "a hot consumer trend, and the category continues to grow every year" said Mars Wrigley general manager David Manzini.
They are set to be followed later this year by a low-calorie range of Mars Wrigley countlines providing less than 100kcal per serving – more than half that of the original bars in some cases. The lineup will span Mars, Snickers, Twix, Milky Way Crispy Roll and Ripple.