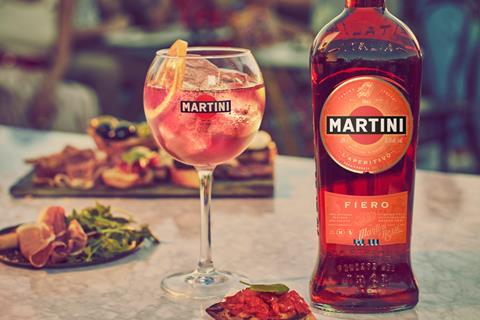 Bacardi is looking to challenge Aperol with a new 'Fiero' vermouth for its Martini brand.

Martini Fiero (14.9% abv) is made with a blend of white wines and botanicals such as Murcia orange peel, giving it a "zesty, bittersweet orange flavour" to help it tap the growing trend for aperitivo and spritz-style drinks, said Bacardi, which is recommending it be paired 50/50 with tonic water.

It rolls into Asda and Ocado from 28 March, with Asda offering shoppers a free 6x150ml pack of Schweppes 1783 Crisp Tonic Water with every purchase of a bottle. Further launches in Sainsbury's, the Co-op, Morrisons and Amazon will follow in April (rsp: £12).

Creating the drink was "an exercise in balance", said Martini master herbalist Ivano Tonutti. "From a botanical point of view, it was essential to harmonise the vibrant citrus notes of the Murcia orange peel with the bitterness and herbal aromatics of the artemisia alongside the many other botanicals, which in turn had to sit happily alongside the quinine in tonic."

Billed as "the biggest new product launch Martini has undertaken in recent years", it will be backed by a £2m push over the coming year.