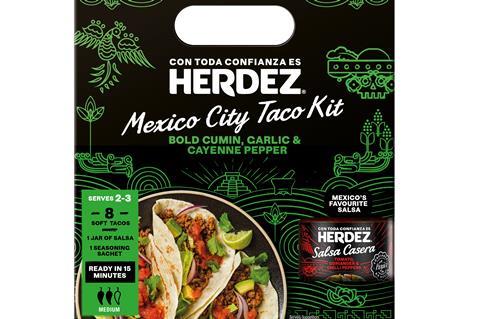 Condiments giant McCormick is hoping to tap the vogue for Mexican food by bringing the country's top salsa brand to the UK.
Called Herdez, the brand has partnered with McCormick to launch in the UK, with McCormick citing the "consumer appetite for more authentic Mexican products and flavour offerings in a market currently dominated by Tex-Mex".
Its range includes a trio of taco kits, Mexico City, Barbacoa and Yucatan (rsp; £4), Classic, Barbacoa and Yucatan seasonings (rsp: £1.20), and two salsas – Verde and Casera (rsp: £2.50).
The range would "provide consumers with the inspiration and flavours they need to enjoy and celebrate the true flavours of Mexico at home, from sampling the aromatic seasoning of Oaxaca on the west coast, to immersing in the lively flavours of the Yucatan on the east coast and experiencing the classic street tacos of Mexico City", said McCormick.
"There is currently a big gap in the market for authentic Mexican flavours and this collaboration will help ignite the already growing category", added its EMEA VP for marketing Chris Nelson.
It's the second brand McCormick has brought across the Atlantic in a matter of weeks.
Last month it unveiled plans to launch much-loved Maryland seasoning brand Old Bay into the UK. Old Bay rolled into Ocado, Morrisons and Amazon this month, with a wider rollout to follow over the coming months.