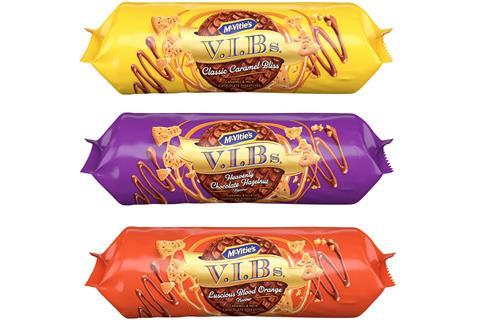 Pladis is taking McVitie's Digestives upmarket with a trio of posh 'Very Important Biscuits'.
Its new VIBs range consists of three new Digestives flavours, topped with a layer of chewy caramel and finished with milk chocolate.
The flavours are: Classic Caramel Bliss, Heavenly Chocolate Hazelnut and Luscious Blood Orange.
McVitie's brand director Emma Stowers said the NPD was the biscuit manufacturer's "finest biscuit to date", noting Pladis was "aiming high" with the range, envisioning it as a bestseller within the first few years of launch.
VIBs would encourage trade-up among those making their 'everyday treat' purchases, said Pladis, yet stressed they were "very competitive" to provide "even more incentive to trade up at the same time as making them affordable enough to enjoy on a regular basis, whilst still feeling premium".
In consumer trials, Pladis found 35% of shoppers would "definitely buy" the VIBs range, with the top three ranked flavours being the ones selected for the range.
VIBs will roll out at Asda from 12 July (rsp: £1.79/250g) before hitting other retailers from the end of August.
The launch will be supported by a splash across social media with a 'Very Important Biscuits, Very Hard To Describe' campaign, whereby shoppers will be encouraged to describe the biscuits on their social channels.