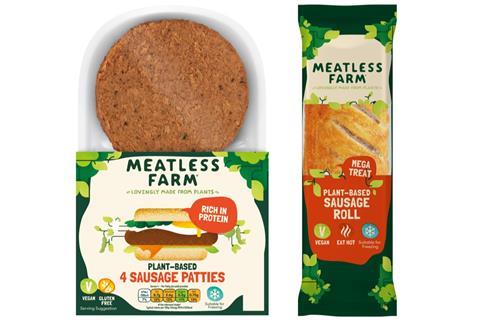 Meatless Farm has entered the battle for vegan sausage roll dominance.
The plant-based pioneer has launched a microwaveable sausage roll – its first foray into the savoury pastries category – made from its plant-based protein.
It will put the brand at loggerheads with the likes of Ginsters and Wall's, both of which already sell chilled vegan sausage rolls in the supermarkets.
The brand has also added a range of plant-based sausage patties, which it claimed were a first for UK retail.
The sausage rolls will hit Sainsbury's from 12 April, while the patties roll into Tesco from 29 March.
Demand for plant-based sausages had surgred since the onset of the pandemic, said the brand, adding meat alternatives were becoming "the fastest-growing area of the chilled savoury pastries sector".
"We see breakfast and savoury pastry as two of the biggest opportunities and innovation is one of the core ways we can continue to grow the category," said the brand's chief growth officer Michael Hunter.
The launches mark the first in a swathe of 10 planned launches from the brand over the coming year.
It comes amid a massive expansion for Meatless Farm, which recently launched a completely separate wing of its business dedicated to supplying plant-based ingredients across the world.