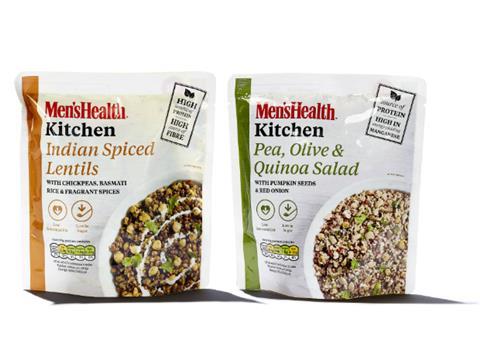 Men's Health has linked up with Fiddes Payne to create the Men's Health Kitchen range of 'no culinary skills required' grain pouches and spice rubs.
Aimed at busy, fitness-orientated and 'nutritionally engaged' men, the ambient Balanced Grains selection has an rsp of £1.69/180g. It comprises Middle Eastern Freekeh, Indian Spiced Lentils and Pea, Olive & Quinoa Salad options.
Meanwhile, Kitchen's 30g Spice Rubs lineup, designed to add natural flavour to lean protein, comes in Mexican Hot, Curried Asian and Citrus & Herb variants (rsp: tbc).
The NPD follows the Men's Health frozen meals, which had been "a huge success", according to Toby Wiseman, editor at Men's Health. "This was a logical in-store extension.
"Men's Health is regarded as a trusted expert in health, lifestyle and nutrition, and we're excited to partner with Fiddes Payne to deliver a new range of products to health-conscious men," he added.
Fiddes Payne head of marketing and innovation Caroline Hughes remarked: "By fusing our food expertise with Men's Health's nutritional knowledge, we've been able to create an ambient range that we believe is an absolute game-changer, and far more complex and complete than anything else on the market."