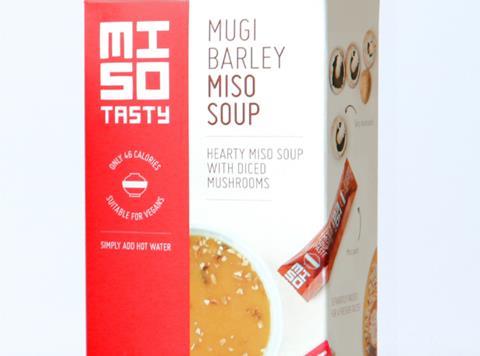 Snack brand Miso Tasty has extended its range of fermented miso soups with a Mugi Barley mushroom & barley variant.

The soup packs went on sale in Ocado and Whole Foods Market on 1 November (rsp: £3.65/4x20g), and Miso Tasty's head of marketing and PR Clare Tucker confirmed the brand was in discussion with major retailers around further listings.

Miso Tasty's new SKU is made with barley miso from the Kyushi region of Japan, which is fermented for three months, giving the soup a "gentler" flavour than others in the range, which are fermented for longer.

It comes in the same two-step kit format as Miso Tasty's other convenience soups, with barley miso paste and mushrooms packed separately to maintain taste, said Tucker.

Like all Miso Tasty products, the new SKU is vegan-accredited by the Vegetarian and Vegan Society and comes in at 45 calories per cup.

"Fermented foods are booming, so extending our line of fermented miso soups offers our customers more choice in flavour, while they seek easy snack options to keep their health in check," said Miso Tasty founder Bonnie Chung.

"Our miso soups sales are growing at major retailers, so extending our range of miso soups was a great opportunity to take advantage of our growing brand presence."

While the Miso Tasty brand has been in business for over three years, the company crowdfunded its expansion earlier this year, surpassing its £150,000 target in less than 36 hours when it appeared online.

It was followed by another win for the brand when its pastes were featured on Jamie Oliver's Quick & Easy Food programme on Channel 4 and in his 5 Ingredients cookbook, causing a 70% spike in sales, according to Chung.