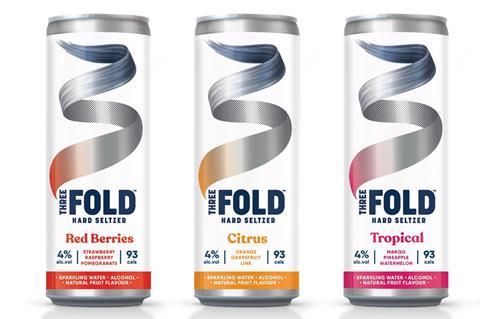 Molson Coors has created a new hard seltzer brand called Three Fold, which will launch next year, The Grocer has learned.
The brand will debut in retail with three flavours – Red Berries, Citrus and Tropical – in the spring, taking its name from "its three-fold characteristics – refreshment, flavour and low-calorie", Molson Coors said.
Its retail launch will be preceded by a DTC soft launch, which Molson Coors said would "help to gather real-world insight into shopper tastes and format preferences".
It's not the first play in hard seltzer for Molson Coors – it signed a distribution deal with Bodega Bay ealier this year – but it is the first hard seltzer that it will make itself.
The NPD was "especially crafted for a generation Z audience, with flavour combinations that we know consumers will love", said Jim Shearer, Molson Coors category, insight and innovation director EMEA & APAC.
It marked "another clear intention in our beyond beer journey", he added.
Molson Coors has spent the past year expanding outside its brewing heartlands into pastures new such as RTD cocktails. Last month saw it make a major move into DTC with the launch of online platform Revl, through which its full portfolio will be available for home delivery.