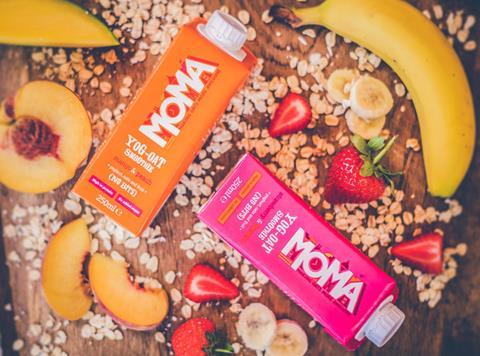 Moma is relaunching its Oatie Shake as the reformulated and repackaged Yog-Oat Smoothie. The brand said the move was a reaction to changed taste preferences.

Rolling out later this month, the on-the-go NPD is high in protein with no added sugar and available in two flavours: Strawberry & Banana, and Mango & Peach (rsp: £1.50/250ml).

The revamped packaging marks Moma's 10th birthday with illustrations of moments from the brand's early days, including the wheeled filing cabinet that was used as a make-shift stall in Waterloo East railway station.

"Almost half of UK adults who buy yoghurt products are looking for easier to eat, on-the-go formats [Mintel, Issues and Insights: Yoghurt and Yoghurt Drinks, July 2014]," claimed Moma founder Tom Mercer.

"We also know that health conscious consumers are increasingly looking for high protein products for a number of reasons: for weight loss or weight management, to help 'keep you going for longer', or for post-exercise recovery.

He added: "We have specifically developed the Yog-Oat Smoothies to be high in protein, lower in sugar than most smoothies and, of course, sticking to Moma's promise of being tasty and convenient so they can be enjoyed as part of a busy day".

Yog-Oat Smoothie follows last month's rollout of Coconut and Chia Porridge Pot, the brand's first dairy-free product, and the launch of its Start Your Day Awesome marketing campaign.