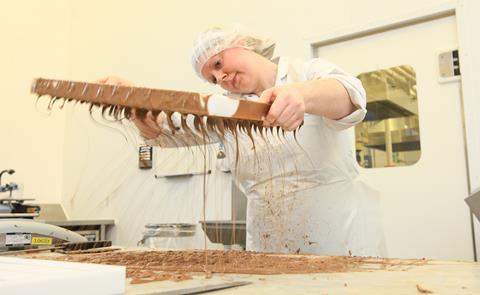 Reduced sugar versions of Cadbury Crunchie, Double Decker, Fudge and Fry's Turkish Delight could soon hit supermarket shelves.
Mondelez has developed a "ground-breaking" technology that it claims could help reduce the amount of sugar and fat from its chocolate and biscuit brands by up to 75%.
Food scientists and researchers collaborating across research and development sites in Reading, Bournville, Europe and the US, have developed a method of replacing the sugar and fats contained in a range of chocolate bar and biscuit fillings with plant-based fibres.
The technology, which was the result of "years of careful development", had the potential to be used to create lower-fat, lower-sugar, lower calorie versions of fillings including honeycomb, caramel, nougat, marshmallow and fudge – all without compromising on taste or texture, said Mondelez.
The move – which strengthened the confectionery giant's chances of producing non-HFSS versions of its well-known treats in the future – was the latest development in the company's goal to offer consumers more choice when it came to "snacking mindfully and managing their overall diet", it added.
Mondelez global chocolate technology lead Adam Harris said this was "an exciting step on our continuous innovation journey".
"We know that consumers are not willing to compromise on taste or texture, especially when it comes to Cadbury products, so we are working hard to understand how we can apply this technology to new products as well as creating alternative, great-tasting versions of some of our best-loved chocolate bars and biscuits."
Mondelez Europe nutrition strategy & communications lead Rimi Obra-Ratwatte said: "Creating treats which are non-HFSS has taken years of careful development and it is a proud moment to have new technology that can help evolve our portfolio with new products which further enables consumers to treat and snack in a more mindful way."
It comes after the confectionery giant debuted a line of non-HFSS sweets called Juicies in August.
Belgian-Swiss cocoa processor Barry Callebaut recently unveiled a new type of chocolate, containing 50% less sugar than standard bars.