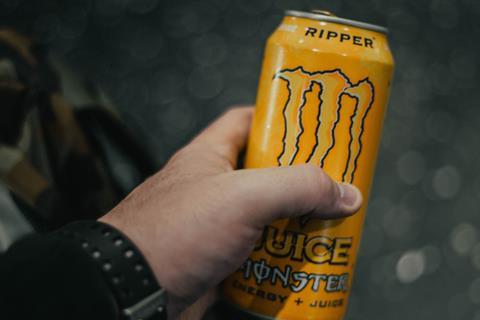 Energy drinks giant Monster looks increasingly likely to embark on a boozy innovation push in the UK.
The brand has applied to register the names Beastea and Nasty Beast as trademarks with the Intellectual Property Office, under class 33 accounting for alcoholic beverages.
It comes after Monster last summer registered The Beast Unleashed, the name of its 6% abv drink that debuted this spring in the US. Four variants – Mean Green, Peach Perfect, White Haze and Scary Berries – hit shelves in March across California, Colorado, Ohio and Florida.
The drinks are inspired by flavours in Monster's core energy lineup but do not contain caffeine.
Monster's UK distributor, Coca-Cola Europacific Partners GB, declined to comment on any of the UK trademark activity – which is just the latest blurring of lines between energy drinks and alcohol.
As reported by The Grocer in April, Mountain Dew has applied to the IPO to register the name of its US alcoholic spin-off, Hard Mtn Dew.
The "bold, citrus" malt-based drink has an abv of 5% and zero sugar.
Available in Original, Baja Blast, Livewire and Watermelon, it is the result of a partnership between Mountain Dew owner PepsiCo and the Boston Beer Company.
Hard Mtn Dew debuted in the US in February 2022 – just one month before UK alcopop leader WKD unveiled its ­caffeinated WKD X duo.
Packing 150mg of ­caffeine and an abv of 7%, its Blue and Gold variants are available in a 500ml can.