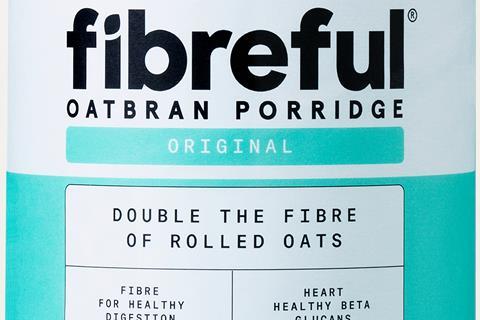 Oats brand Mornflake has joined the gut health craze with the two-strong Fibreful Oatbran Porridge range.
It promises double the fibre of standard rolled porridge oats, containing 25.6g per 100g. For comparison, the same amount of Quaker's core Old Fashioned Oats has 10g of fibre, while the Original variant of its Instant Oatmeal has 10.7g.
The premium Fibreful is a combination of oatbran and chicory inulin. Made with no added sugar, it provides 2.1g of sugar per 100g. It also provides 80% of the recommended daily intake of oat beta glucan fibre – which had been shown to lower blood cholesterol and boost heart health, according to Mornflake.
The launch came as "government stats reveal that only 10% of us are getting the recommended 30g of fibre a day" the Cheshire brand said.
Available in Original and Matcha & Mixed Seeds (rsp: £4.95/500g), Fibreful will roll this month into Waitrose and Ocado in a fully recyclable cardboard tube.
The new breakfast option can be prepared in less than five minutes. It was aimed at "millennial healthy lifestylers" wanting to "maintain a healthy gut microbiome" said Mornflake.
Marek Makowski, commercial director at the brand's owner Morning Foods, said gut health was "a massive trend across multiple food categories, and Fibreful meets a gap in the market for a premium, functional health porridge proposition".
The NPD was "set to give fibre a face-lift" he added.
It comes as Morning Foods is shipping "rescue pallets" of porridge, muesli and granola to NHS staff, food banks and vulnerable people across north-west England. The supplier is also supporting the national Defra care parcel scheme, with a pack of Mornflake Oats being included in more than half a million parcels sent to households this month.