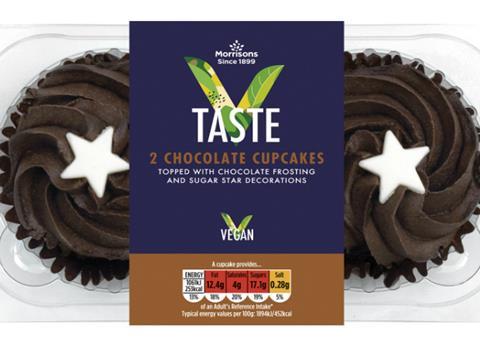 Morrisons has completed the rollout of its latest tranche of vegan products, bringing the supermarket's total plant-based offer to more than 300 SKUs.
The grocer has expanded its V Taste tertiary brand across chilled and bakery, following its debut in September with 10 frozen meat alternatives including Indian Style Quarter Pounder, Sweet Potato Nut Cutlet and Vegetable Fingers.
V Taste now includes six 400g chilled ready meals priced at £3, with variants such as Luscious Lentil Hotpot and Bangin' Butternut Squash & Chickpea Curry. Meanwhile, two choices of V Taste cupcake in a twin-pack are available from in-store bakery for £1: Chocolate and Red Velvet.
Elsewhere in store, Morrisons has broadened its own-label vegan selection with five chilled dairy alternatives, such as Strawberry Soya Milk and Cashew Nut Milk – both £1.30 a litre. The supermarket has also reformulated and repackaged its plain soya milk in both sweetened and unsweetened variants.
Food-to-go has been ramped up with a trio of plant-based options including Hosomaki Rolls (£2), while the cheese segment has seen the addition of three vegan lines, including Free-From Edam (£2.50/180g).
Finally, Morrisons has overhauled its 600g fresh soups, adding Winter Vegetable (£1.50) and The Best Sweet Potato & Chilli (£2.20) among other vegan-friendly recipes.
It comes in reponse as "more and more people" were choosing plant-based options, said Morrisons vegan buyer Alex Dodd. "We are listening and responding to customers who tell us that they want more vegan options. We are also making vegan food easier to find."