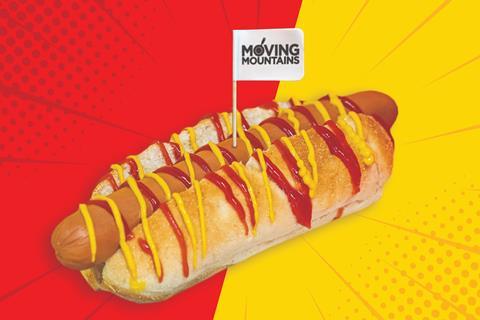 British meat alternative brand Moving Mountains is set to launch its second product and first retail proposition – a vegan hot dog.
The Moving Mountains hot dog is soy, wheat, and pea-free, with sunflower seeds making up its primary ingredient. It also features carrot, onion, paprika and coconut oil, which the brand says combine to replicate the colour, flavour and consistency of a hot dog. The result was described by Moving Mountains as a "naturally smoked flavour and firm yet bouncy texture".
Its hot dog is due to roll out in foodservice initially, launching into London restaurant Unity Diner next weekend at £12. The food tech brand said it was already working on different flavours and size variants designed for supermarkets, with whom it was already in discussions ahead of planned rollout later this year (rsp: TBC).
Founder Simeon Van der Molen said the brand had launched its first product, the Moving Mountains Burger, in a bid to "create food that is sustainable and doesn't compromise on taste".
Though the brand had initially planned to launch its burger into retail, after its launch into foodservice at the end of 2017, Moving Mountains said it now felt that would be the wrong move, claiming it could eventually devalue the product.
"Following the resounding success of the burger, our second innovative launch is set to make hot dogs desirable again, giving them a long deserved revamp," said Van der Molen.
"Our latest food tech innovation proves that you don't need a pig to make a dog; we use sunflower seeds to deliver an identical taste and texture, which is a more sustainable food option for our health and the health of the planet. We are currently in talks with supermarkets regarding launching a retail version of the Moving Mountains Hot Dog, which as our debut into the grocery market, represents a significant development for the business."
Emissions
It comes as rival UK plant-based brand the Meatless Farm Co this week unveiled new research in conjunction with Oxford University that suggested UK greenhouse gas emissions could be cut by up to 8.4% a year by swapping out red meat for plant-based alternatives once a week.
The brand, which is also due to roll out a sausage in the near future, has called on consumers to ditch meat for one more meal per week by 2021, in a move it said would represent the equivalent of taking 16 million cars off the road.
If the UK population followed recommendations in its new Meatless Consumption Target, it would result in a 23% reduction in the UK's domestic and international farmland use, and a 2% reduction in the UK's water use – equivalent to 55 fewer showers per person per year.
"It's no secret that plant-based is becoming increasingly popular and most of this is being driven by a new generation of 'flexitarians'. The real challenge is getting traditional meat eaters to adopt a more plant-based diet," said Meatless Farm CEO Rob Woodall.
"That's why the Meatless Consumption Target is so important – it's a powerful yet simple way of introducing more plant-based eating. It isn't about being strictly anti-meat either. We can drive real change by striking a good balance."