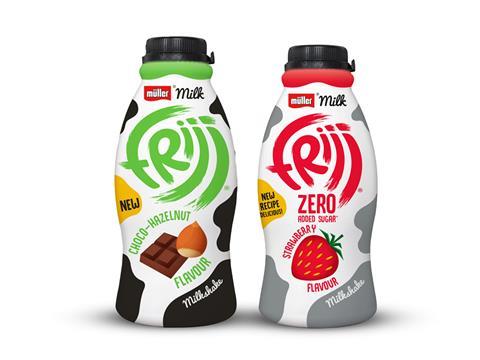 Müller will unveil a revamped and reformulated Frijj range next month, including a new, no added sugar lineup.

The processor is replacing its 40% Less Sugar variant - launched in January 2015 by former owner Dairy Crest - with the new range, dubbed Frijj Zero Added Sugar, which contains on average 9% less sugar than its predecessor.
The dairy drink will be available in chocolate, strawberry, and mango & passionfruit at the same price as Frijj 40% Less Sugar (rsp: £1.30/471ml).

Müller is also relaunching the standard Frijj range, with an enhanced taste profile, which will be available in its current flavours (chocolate, banana, strawberry, fudge brownie, cookie dough and choc orange), alongside a new choco-hazelnut drink. All rsps (£1.30) and packweights (471ml) would remain unchanged, it said.

To mark the relaunch, Müller Milk & Ingredients will also introduce a new, limited edition Frijj choco-coconut flavour, which will be replaced in July with a white chocolate & pistachio flavour.

Packaging for the standard and Zero Added Sugar ranges has also been revamped, and will carry a Müller Milk logo for the first time. Müller is also poised to announce a major marketing push to support the relaunch.

The revamp comes on the back of an 8.5% fall in Frijj value sales to £41.6m last year [The Grocer Top Products/Nielsen]. As a result, the brand lost its market-leading position to rival Yazoo, which launched a new no added sugar range last May.

Müller's chief marketing officer Michael Inpong said the Frijj relaunch was part of the dairy giant's £100m investment into its UK operations and would give shoppers a tangible choice of consuming Frijj with or without sugar, but "without compromising on taste".