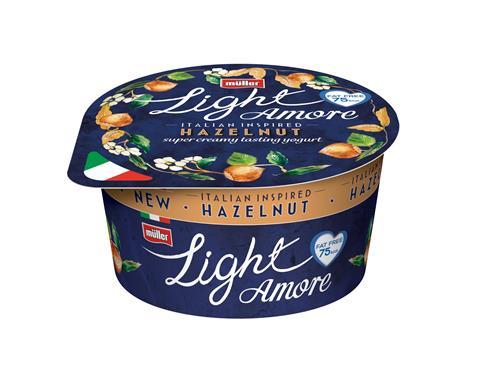 Müller is set to relaunch its Amore sub-brand almost three years since it was last seen – this time as an Italian-style range within the Müller Light portfolio.
The first three SKUs in the Müller Light Amore range will be Hazelnut, Morello Cherry and Lemon flavours (rsp: £1/130g), rolling out in Asda and Morrisons in March.
Amore's previous incarnation was a full-fat range of "creamy and luxurious" yoghurts, which disappeared from the mults throughout the summer of 2016. Its new range offered the same indulgent texture but was also fat free and high in protein, said a spokesman.
The relaunch came after Müller's research found consumers of Müller Light were reluctant to buy into the luxury yoghurt category due to concerns over sugar and fat content. The new Amore range on average contains 6.2g of sugar per 130g pot, compared with 16.2g per 120g pot in its former iteration.
The lineup is currently being produced in Austria, though Müller said it would look to bring production to the UK if the launch proved successful.
"We've worked really hard to identify the right opportunity for Müller Light shoppers in this segment," said chief marketing officer Michael Inpong.
"Müller Light Amore is fat free and high in protein. This is the type of innovation that our customers and consumers can expect from the number one brand in the category."
The launch is part of Müller's UK investment of more than £400m over the next three years, to develop, manufacture and market a "new generation" of branded and own-label dairy products. It will be supported by Müller Light's multimedia campaign, featuring Commonwealth Games and World Indoor Championship gold medallist, Katarina Johnson-Thompson.