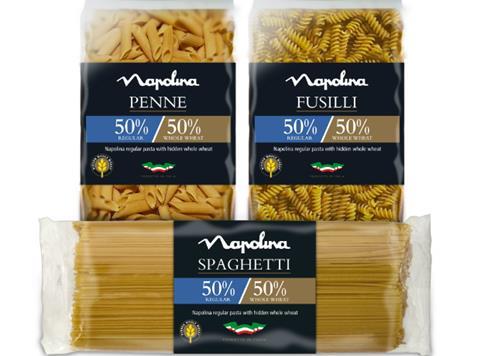 Napolina is set to launch pasta containing whole wheat, and pasta sauce with no added sugar, as the Italian cooking brand looks to tap growing consumer demand for healthier meal options.
Rolling out now, the new 50%/50% pasta range – with fusilli, penne and spaghetti variants – combines whole wheat semolina with regular semolina to create a product with a similar look and taste to regular pasta but with the benefits of 'hidden' whole wheat (rsp: £1.50/500g).
"Pasta dishes remain in the top five UK in-home meals and developing new products for the more health-conscious consumer is a way of increasing penetration in this area," said Dean Towey, marketing director for Napolina. "We're positive our new 50%/50% pasta will be well-received given the continuing health trend and widespread appeal of the brand."
The brand has also unveiled two lines of No Added Sugar pasta sauces, created 'to support families in reducing their sugar intake'.
The first – available from this month – received a 'Mumsnet Rated' seal of approval during testing. It comes in a 500g jar (rsp: £1.69) and comprises flavours including Tomato & Hidden Veg, Bolognese, and Sauce for Meatballs, with all variants having a smooth texture.
The second range is in 350g jars aimed at small households, and is a selection of chunky sauces in flavours such as Tomato & Basil, and Tomato & Chilli (rsp: £1.50). It will roll out next month.
"Sugar content is of greater interest to consumers than ever before," said Towey. "We have undertaken significant consumer research, and our product development has been extensive."
The 'no added sugar' NPD arrives after Mars Food addressed consumer health concerns in April by introducing front-of-pack labelling on brands such as Dolmio pasta sauces to indicate whether products were suitable to be eaten every day or should be consumed only occasionally.