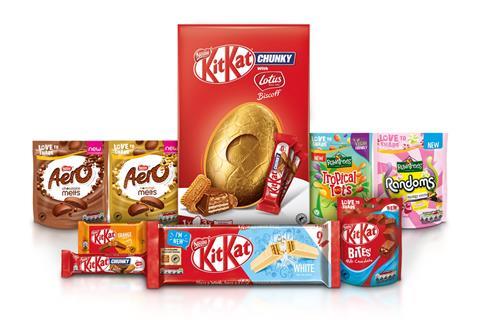 Nestlé has unveiled a swathe of launches for its its Kit Kat, Aero and Rowntree's brands.
Five new products will join the Kit Kat lineup this spring: a duo of 'Bites' – comprising a "rich, chocolatey filling and crispy wafer pieces in a milk choc shell" – in milk chocolate and chocolate caramel flavours; 2 Finger White; 4 Finger Orange; and Chunky Lotus Giant Egg – comprising a milk chocolate shell egg alongside three full-size Chunky Lotus Biscoff bars.
Bites will roll into Tesco and Booker in 90g sharing bags from the beginning of February. A further retail rollout into supermarkets and convenience stores is planned for the milk chocolate flavour from April (rsp: £1.59/90g).
Kit Kat 4 Finger Orange and a 2 Finger White multipack will roll into supermarkets and convenience stores from 1 February (rsp: 70p-£1.99/9x20.7g-41.5g). A multipack of four 4 Finger Orange bars will also roll into the Co-op with a wider retail rollout planned from May.
Chunky Lotus Biscoff Giant Egg will also launch this spring (rsp: £7.49/274.5g). It would offer Kit Kat fans "their first chance to try the hotly anticipated Kit Kat Chunky Lotus Biscoff", which will launch in the UK later this year, said Nestlé.
The fmcg giant is also launching a trio of 'Melts' under its Aero brand.
Billed as "delicious buttons of light and bubbly chocolate that melt effortlessly in the mouth for a moment of chocolatey indulgence", they will launch in three flavours: milk chocolate, caramel and orange.
The milk chocolate and caramel flavours will roll into supermarkets and convenience stores from the beginning of February. Orange Melts, meanwhile, will launch exclusively at Asda (rsp: £1.59/86g-92g).
Nestlé is also adding two new products to its Rowntree's lineup. They are Randoms Squidgy Swirls and Jelly Tots Tropical Tots.
Randoms Squidgy Swirls comprise an assortment of fruit and yoghurt-flavour jellies in three varieties: blackcurrant & yoghurt, strawberry & yoghurt and apple & yoghurt (rsp: £1.59/130g).
They will roll into supermarkets and convenience stores from the beginning of February.
Jelly Tots Tropical Tots, meanwhile, feature five "tangy" flavours: passion fruit, peach, pineapple, grapefruit and mango (rsp: £1.59/140g).
The vegan-friendly treats will launch exclusively at Tesco in mid-February.
It comes as Nestlé has made concerted efforts over recent months to expand its reach in confectionery.
Earlier this month, it teamed up with sweet baked goods supplier Baked by Rich's to launch a range of cookies based on its Matchmakers, Munchies and Rolo brands.
In autumn, it unveiled a raft of new product launches for Christmas 2021, including new additions to its Kit Kat, Quality Street and Aero brands.