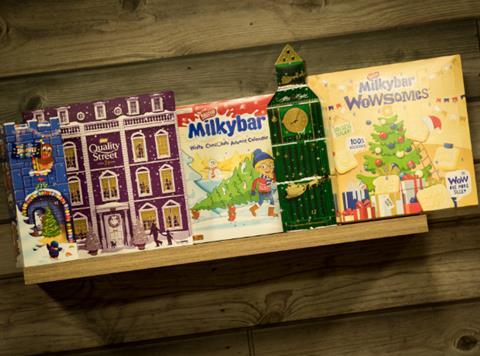 Nestlé has rolled out its biggest-ever range of confectionery advent calendars.
The food and drink giant's five calendars for 2018 feature some of its most popular brands – each intended to provide "a different flavour of Christmas countdown".
The gifting-focused selection includes Milkybar (rsp: £2.19), Smarties with a design like a "snowy castle" (rsp: £10), Milkybar Wowsomes featuring Nestlé's new 30% less sugar chocolate (rsp: £5), and the After Eight 3D calendar shaped like a clock tower and containing seven different white and dark mint chocolates (rsp: £10).
They are joined by the first Quality Street advent calendar (rsp: £5), the wrapped sweets in which have been placed in a completely random order – "meaning no two calendars are the same" according to Nestlé.
"Everybody's got a favourite sweet," said the supplier's Jon Smith, senior brand manager for Christmas confectionery. "We've made sure that there's a great range of advent calendars available this year under some of our biggest brands.
Advent calendars were "a key part of the season" he added. "We think we've got a perfect gift for anybody looking to get into the Christmas spirit."