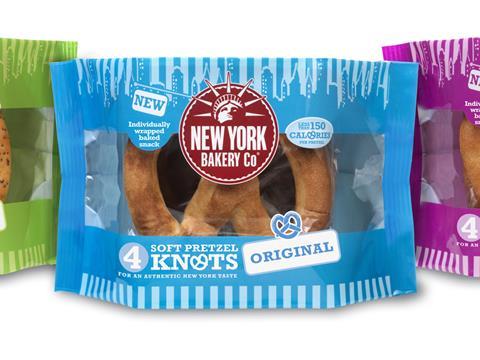 New York Bakery Co (NYBC) is kicking off a major effort to extend beyond bagels with what it claims is "the world's" first ambient packaged soft pretzel".
The Soft Pretzel Knots range comprises packs of four individually wrapped items available in: original, sweet cinnamon, or Cheddar & red onion (rsp: £1.80). The trio launches in Sainsbury's, Asda and Morrisons in mid-September followed by Tesco and Waitrose in October.
Pitched as a light snack, each pretzel contains fewer than 150 calories.
Marketing manager Karen Revel-Chion said the launch - supported by print and digital ads as part of a £2.5m media brand spend this year - would be the first in a pipeline of innovation that aimed to reposition NYBC as an "all-round" bakery business, adding the company had been looking to extend beyond bagels "for a while".
Since relaunching in January 2011, NYBC has grown to become the second-largest brand in non-bread bakery, with sales up 3% to £61.8m [IRI 52 w/e 28 March 2015]. But despite a short-lived range of muffins launched in 2012, the portfolio currently consists only of bagels.
"Our greatest strength is our brand - it's well known for its New York positioning, and consumers have told us they believe we could do pretzels - an iconic New York food - really well, Revel-Chion said. "
She added NYBC intended to follow the pretzels with annual NPD, focusing on products associated with New York that either don't exist in the UK or don't have a successful branded presence here. She could include NYBC-branded bread rolls in the future.
Revel-Chion said the business was also watching the growth of gluten-free options "carefully", but had no current plans to enter the free-from market.