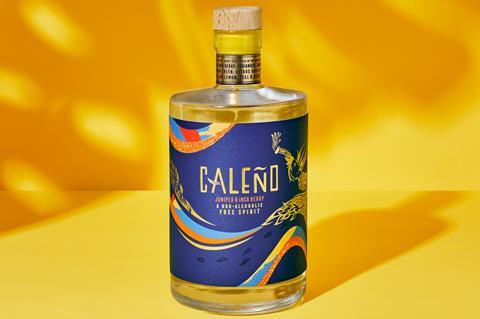 Colombian-inspired non-alcoholic spirit Caleño is to make its national supermarket debut in Sainsbury's next month as part of the retailer's Future Brands drive.
The drink is steam-distilled in stainless steel drums and billed as "a tropical infusion of juniper, citrus and spice botanicals" featuring South American Inca berries as a key ingredient, and rolls out from 3 March (rsp: £24/70cl).
The brand was founded by Ellie Webb, who formerly worked for booze distribution giant Matthew Clark, where she organised experiential trade tasting events and led the on-trade marketing campaign for the launch of Bud Light.
"I grew up surrounded by music, dancing and an upbeat Colombian culture," she said. "This has had a big influence on the creation of Caleño, which is here to show people that you can have fun without drinking."
Sainsbury's has gone on a listing spree of start-up food and drink brands over the past year in a high-profile drive to differentiate itself from other retailers and lure younger shoppers.
Booze has been a particular area of focus from the retailer, with recent examples including fruit-infused craft beer brand Jubel, which launched a duo of brews onto Sainsbury's shelves in October.


Daniel is The Grocer's food and drink editor and is responsible for our product coverage across all fmcg categories.

Daniel has written about food and drink for the majority of his career: prior to joining The Grocer in 2017, he covered food and drink news on pub industry title The Morning Advertiser, and wrote features for VICE magazine.

Follow Daniel on Twitter: @WoolfsonExists