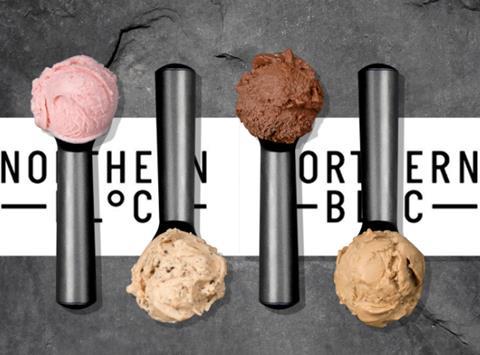 Leeds ice cream startup Northern Bloc is set to roll out its first vegan lines – after more than two years in development.
The four-strong range will land in freezers by the spring in grocery and foodservice. It is made with rice milk and without the eggs or artificial stabilisers sometimes found in dairy-free ice creams.
The brand unveiled its new premium products this week, having finalised them last summer and then tested them during the autumn with restaurant customers in Yorkshire. Packed in a 500ml tub for retail (rsp: £5.49), the variants are Salted Peanut & Chocolate, Hazelnut & Rose, Chocolate & Orange Blossom and Strawberry & Yuzu – a Japanese citrus fruit that would "top trend lists in 2018", claimed Northern Bloc.
The brand hoped its new range would appeal to all shoppers, not just vegans. "We wanted dairy eaters to try it for no other reason than it's great," said co-founder Josh Lee. "It scoops the same."
The product's sugar level was akin to that of regular ice cream, he added. "You still want an indulgent treat. Just because it's not got dairy in it doesn't mean it has to taste weird."
The launch comes after Northern Bloc – founded in 2014 by Lee and Dirk Mischendahl – won a six-figure bank funding package in the summer from Santander Business Banking to ramp up production and expand its workforce.