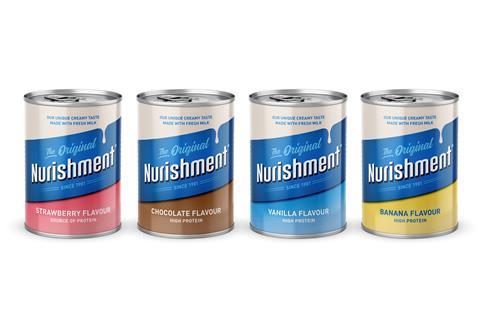 Nurishment has rolled out its range of milk drinks with new packaging.
The change is the first pack redesign for the brand since it launched 30 years ago.
It still features the "iconic" ring pull and 387ml can size but has a new logo and label design that the brand said would "look fresher than ever on shelves".
It added the drink would still have the "same great, creamy taste that comes from fresh cooked milk".
Nurishment told The Grocer: "As our consumers' lives evolve over time, we continue to strive to meet their changing needs, including a simpler retail experience.
"Our new packaging offers a cleaner, fresher look that still leverages the brand's history as a corner shop essential since 1981, and proudly celebrates the brand's unique taste made from fresh milk."
The drinks are available in four flavours – Banana, Vanilla, Strawberry and Chocolate – and contain vitamins A, B12, C and D as well as calcium, folic acid and manganese.
The new pack design has launched into the big four and Nisa (rsp: £1.40/387ml).