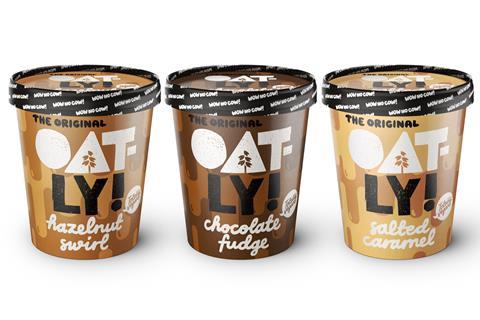 Oat milk pioneer Oatly is moving into ice cream.
The Swedish brand is set to launch a trio of oat-based ice creams – Chocolate Fudge, Hazelnut Swirl and Salted Caramel – into Tesco from the end of October (rsp: £4.50/340g).
Chocolate Fudge, which Oatly said "breaks all our own records for unhealthiness, imbalance and general reckless abandon" is made with UTZ-certified cocoa.
Salted Caramel, meanwhile, had a "smooth and creamy consistency" which "allows the salty caramel ripple to shine through and perfectly balance the sweetness of the vanilla ice cream", while Hazelnut Swirl was "a luxurious caramel ice cream with salty caramel sauce and candied hazelnuts".
The tubs respectively contain 235, 220 and 246 calories per 100g.
The brand currently sells seven flavours of ice cream in the US. Asked whether there were plans to grow the UK range in future, Oatly UK general manager Ishen Paran said the brand was "currently focused" on the initial trio but "always looking at new products and flavours that will make it easy for consumers to make the simple switch from dairy to oat".
It comes just weeks after the brand's latest milk alternative NPD – a 'deluxe' chocolate oat drink billed as being "creamier in the way that whole cow's milk is creamier than the other cow's milk" but vegan – hit the market.
The brand, whose value sales grew 89% to £18m last year, has said it expects sales to grow to £35m by the end of 2019.