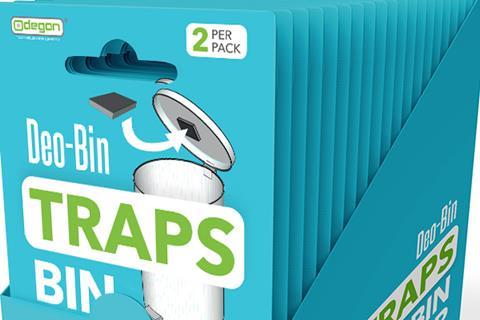 Shropshire SME Odegon Technologies has launched Deo-Bin – a perfume-free bin deodoriser based on World War II military technology.
Promising to absorb odour for up to three months, DeoBin is a small adhesive patch. It is made using a derivative of activated carbon technology patented in 1942 by the War Office for soldiers' chemsuits. When the material was declassified in the late 1970s, Steve Rawlings used it to make methane-absorbing protective gear for oil workers in the North Sea.
In 2011, he and his son Tom set up Odegon, using the nameless carbon material – known only by a code number – to create DeoSole for deodorising footwear and DeoTag, an underarm patch for the fashion industry that is found in clothing by the likes of Marks & Spencer, Ted Baker, Umbro and Calvin Klein.
Rawlings is now seeking high street listings for Deo-Bin, which took around two years of development to ensure an affordable price point – given the base material is "more expensive than silver". He expects the finished product to retail at between £1.99 and £2.99 for a two-pack. "It's unique. There's nothing like it in the marketplace," he told The Grocer.
While a concerted push into fmcg could be "perilous", Rawlings was "confident that it's the right direction for us at this time".
"The USP of Deo-Bin is that it doesn't contain any chemicals or perfumes to either poison or mask the bacteria that gives off pongs," he added. "It uses one of nature's most natural ingredients – with a little help from us."