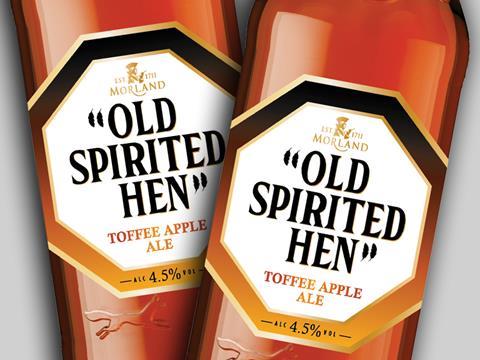 Greene King has extended Old Speckled Hen into the speers - spirit beers - market with the launch of a Halloween limited edition.
Rolling out to Tesco now, Old Spirited Hen is a toffee apple beer that blends "rich toffee flavour with crisp fruit" through the addition of apple liquor. It carries a £1.79 rsp and is also available at £6 for four.
"With new orange and black hues on the label, this gives a classic ale a refreshingly spooky new twist," said the brewer, adding the beer was expected to be available until stocks ran out in November.
Interest is growing in the speers category, with Heineken UK taking Foster's into the market the launch of rum-flavoured Foster's Rocks in August. The development followed the rapid growth of Heineken's tequila beer Desperados, currently worth £42.8m and up 49% year on year - making it the fastest-growing of the UK's top 25 lager brands [Nielsen 52 w/e 25 April 2015]. In March, Heineken added a third variety to Desperados, the cachaça and guarana-flavoured Red.
Value sales of Old Speckled Hen are up 8.1% year on year to £55m [Nielsen].