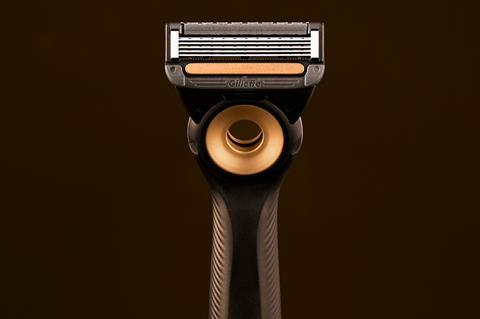 P&G is preparing a UK launch of its latest shaving innovation from the US, the Gillette Heated Razor – the first of its kind in the world, according to the supplier.
Powered by a rechargeable lithium-ion battery, the device features a stainless steel 'warming bar' below five blades. It was designed to provide "soothing warmth to the skin that feels like a hot towel shave with every stroke" P&G said.
Users can choose between two levels of heat, while sensors maintain even warmth at the chosen temperature. The battery power lasts for about six shaves, and is recharged by a wireless magnetic dock.
Gillette Heated Razor will be available from July or August via the brand's website and selected high-end retailers. Rsp is yet to be confirmed.
It made its US-wide debut last month, retailing at $200 (£160), after being available in a limited quantity in autumn via Indiegogo as the first NPD from GilletteLabs' premium division. It sold out on the crowdfunding site in less than a week.
Gillette Heated Razor brought together "beautiful form with reimagined function" said Gary Coombe, president of P&G global grooming. "Men love the sensation of a hot towel shave and now they can enjoy that same luxurious experience every day in their bathroom."
Friction Free Shaving to make high street debut
UK shave club for women Friction Free Shaving is appear on the high street for the first time this month.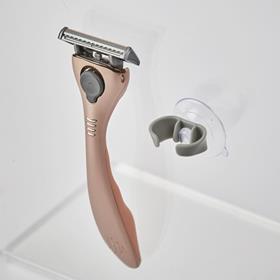 The direct-to-consumer brand will appear in 245 branches of Boots from 24 June.
The range will comprise a value pack containing a rose-gold metal handle, four refill blades, clamshell blade protector and shower hook; a starter pack of handle, one refill and shower hook; a refill multipack; and shave cream.
All packaging is plastic-free and fully recyclable.
The rollout would mark "the first women's-only razor brand to launch in Boots for 10 years" claimed FFS, which launched in 2015 as a sustainable alternative to plastic razors for women.
"We've always believed that women's shaving products could be better looking, better performing and better for the environment - without breaking the bank," said FFS co-founder Briar Keen.
"Knowing that Boots also value the same things means a huge amount to us. We hope that customers on the high street love us as much as they do online."