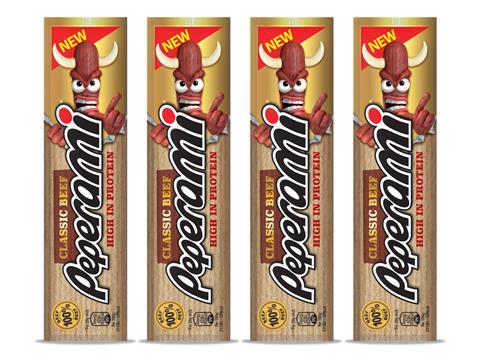 Peperami has added a beef variant to its range for the first time in the brand's 62 years.
Aiming to tap consumer demand for snacking variety and protein, the 100% beef NPD will be available in two flavours, Classic and Peppered, as a single stick and a multipack of three (rsps: 79p and £1.59).
A six-figure campaign to mark the launch will comprise a partnership with Comedy Central UK, a dedicated ad push, and the Beef Tour sampling activity throughout June and July.
The meat snacking market was proving "very strong" but lacked beef options, said Pavan Chandra, senior marketer at Peperami. "We saw this as an opportunity to expand the brand." It has been pork-based since its launch in 1955, although its German sister brand BiFi is made from beef.
The latest Peperami variant will roll out later this month, alongside a fresh look for the original pork stick – which has been given a simpler design and revamped display cases including one for impulse and convenience to merchandise the stick vertically.
The green pack's appearance had become "more complex, less distinctive and therefore less impactful," said Chandra. "We have stripped the design back to the core messaging and core distinctive assets," he added.