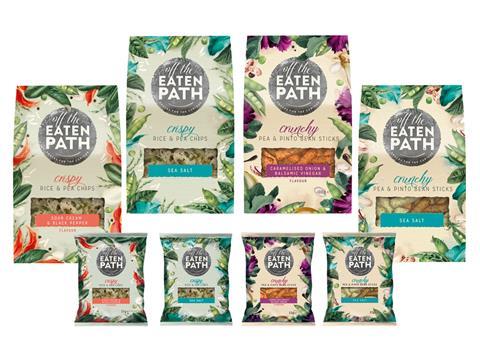 PepsiCo is to continue its commitment to offering healthier bagged snacks with the UK launch of its Off the Eaten Path brand of vegetable crisps.
The range, positioned as 'wholesome' and 'guilt-free', is set to roll out to retailers including Sainsbury's at the end of June.
Four variants – Sea Salt Crispy Rice & Pea Chips, Sour Cream & Cracked Black Pepper Crispy Rice & Pea Chips, Sea Salt Crunchy Pea & Pinto Bean Sticks, and Caramelised Onion & Balsamic Vinegar Crunchy Pea & Pinto Bean Sticks – will be available in a single serve bag (rsp: £1) and a sharing pack (rsp: £2.25).
Ingredients include white beans and green peas.
Off the Eaten Path launched in the US earlier this year as an alternative to PepsiCo's potato, maize and wheat-based savoury snacks. Bearing the strapline 'Snacks for the Curious', the US lineup comprises one Veggie Crisps variant of rice, peas and black beans, and two flavours of Hummus Crisps made from chickpeas. The vegetable snack offers 18g of fat per 100g, with no saturated fat and almost 11g of protein.
The US selection comes in predominantly grey packaging, but the UK version has been given a paler design with more ingredients cues.
The impending British debut marks the latest move by a major bagged snacks supplier to retain relevance in a category facing continuous pressure for healthier options – and it follows PepsiCo's October 2016 commitment to a multibillion-dollar spend on developing healthier drinks and snacks. The fmcg giant also pledged to reduce levels of sugar, salt and fat in existing products as part of a major health drive under its 2025 Sustainability Agenda.
Most recently, the company revamped its Walkers Oven Baked brand to highlight the potato crisp alternative's '50% lower fat' claim.