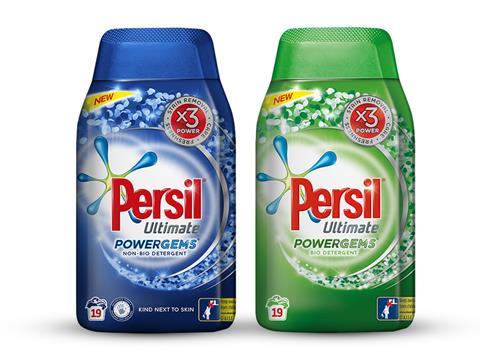 Unilever has launched what it claims is the first major innovation in laundry in a decade, with a new range, Persil Powergems, set to hit shelves next month.

Launching as a premium product, the Powergems technology was the biggest breakthrough since the birth of the laundry capsule, said Unilever.

The fmcg giant has more than 20 patents and patents pending for what it described as the "groundbreaking" innovation. It is based on lentil-shaped crystals billed as being twice as concentrated as washing powders but able to wash more effectively than capsules.

Using 100% active ingredients, Powergems' concentrated formulation is designed to remove stains effectively with less mess than a powder, but with the care and "intense freshness" of a laundry liquid.

Unilever claimed the €18m investment led by its R&D centre in Port Sunlight was a landmark both for investment in the UK and also for the company's journey towards more environmentally friendly products.

Persil Powergems will be made at the site of William Lever's first factory in Warrington. With 20 highly skilled jobs created, the company plans to introduce the new tech to other laundry brands across international markets.

Gemma Cleland, executive director for homecare at Unilever, told The Grocer: "This product uses half as many chemicals as other products on the market."

Cleland said the product had been designed to address concerns among customers over the mess caused by powders and the lack of faith among some people in the cleaning capabilities of capsules.

Persil Powergems will be available across non-bio and bio variants in packs of 12 (rsp: £5), 19 (rsp: £8) and 30 (rsp: £11) washes.