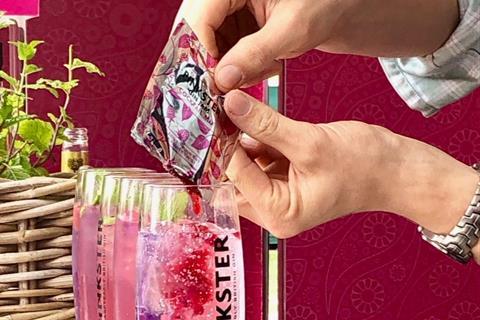 Posh pink gin brand Pinkster has turned discarded raspberries from the production of its gin into a new Gin Jam Cocktail Mix.
The brand has been turning discarded raspberries into jam for years, and saw that "bartenders galore began experimenting with it as a fruity cocktail ingredient, which prompted the thought of creating a standalone product for ease of use", said Pinkster MD Stephen Marsh.
The cocktail mix (2.5% abv) comes packed in 20g sachets, with a two-year shelf life, and will be targeted at the off-trade in packs of 28. Shoppers simply have to stir it into a gin & tonic.
"We went back to the drawing board, finessing the recipe for our existing gin jam, adding a dash of lemon juice," said Marsh. "We've certainly hit the spot, as the resulting mix added to a Pinkster G&T makes for an extremely delectable mixed drink."
Marsh revealed Pinkster has also stepped up production of Pinkster Royale, the liqueur it released last year – also made with the brand's leftover raspberries – which was designed to pair especially with prosecco.
These moves demonstrated "that we're a restless, innovative brand, fully committed to sustainability", said Marsh. "We've long been quick to champion the fact that our botanicals include raspberries. Real ones, the ones that grow on bushes. Best of all, we're not prepared to let any of these gin-soaked blighters go to waste."
The news comes after Pinkster netted a £1.1m cash injection from private investors – including its own directors, employees and existing investors – in December, with Marsh citing a desire to "fully capitalise on the gin boom".