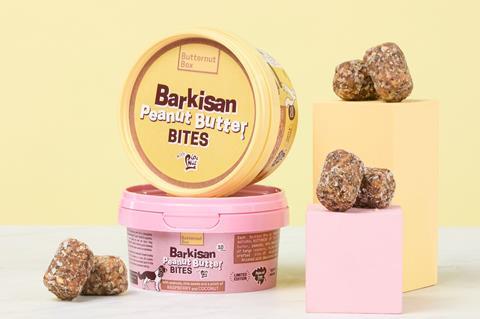 Pip & Nut has teamed up with DTC dogfood brand Butternut Box to launch a range of peanut butter treats for dogs.
Called Barkisan Peanut Butter Bites, the treats are available in two variants: Banana and Raspberry & Coconut.
Billed as the perfect post-walkies treat, they comprise "human-quality ingredients", including Pip & Nut peanut butter, peanuts, oats and chia seeds.
They have rolled into Pip & Nut's and Butternut Box's webstores (£4.50/10 bites).
The partnership aimed to create more "shared experiences between dogs and their human companions", said Pip & Nut.
"We're so excited to collaborate with fellow B Corp, Butternut Box, as we're big dog lovers at Pip & Nut and have seen first-hand how nutty they go for our natural peanut butter," said Pip & Nut founder Pip Murray.
Butternut Box co-founder Dave Nolan added that the businesses were natural partners.
"My own dog Apple is a big fan of their peanut butter, so I know she's as excited as I am to see Barkisan Bites hit our virtual shelves."
The launch comes after Murray recently joined B Lab UK as a board trustee for an initial three-year spell.