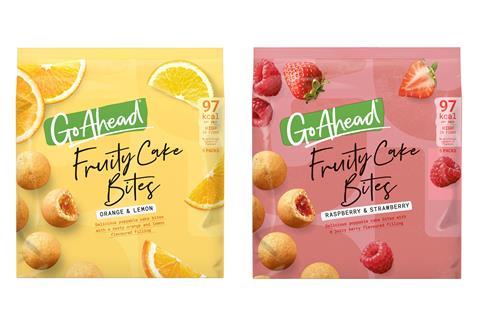 Pladis is hoping to inject some value back into its Go Ahead brand with a makeover and a new range of cake bites.
It has unveiled what it claims is "the biggest logo and packaging overhaul that Go Ahead has ever seen", rolling out a "fresh" new logo and pack redesign, with a new colour palette and product photography.
It comes as the brand suffered a value loss of 13.1% last year, falling £4.4m to £29.5m as on-the-go occasions came to a near halt thanks to coronavirus [Nielsen 52 w/e 5 September 2020].
A Pladis spokesman told The Grocer changes to shopper behaviour as a result of government restrictions meant healthier biscuits took a hit.
However, she stressed, "as we enter 2021, we're cautiously optimistic and expect demand for healthier biscuits to gradually return as shoppers focus on making small, positive changes to prioritise their wellbeing".
The brand would encourage shoppers to "go easy on yourself" and "cheerlead those little wins, however small they might be", added Pladis. "It's this shift in positioning that will help make the Go Ahead brand even more relevant to today's consumers."
Alongside the rebrand, Go Ahead has launched a new format – Go Ahead Fruity Cake Bites. The NPD is billed as being a "deliciously poppable cake snack", and is claimed to be high in fibre, coming in at under 100 calories per pack.
They have rolled out in two flavours – Orange & Lemon and Raspberry & Strawberry – hitting Asda and Sainsbury's this month (rsp: £2.39/5x27.3g).
Go Ahead is also extending its existing slices range with Fruit & Fibre Slices launching in two flavours – Strawberry and Blueberry.
They comprise a "light and crispy" biscuit, packed with sultanas and a fruity filling and topped with a sprinkle of oats and bran.
Per slice, they contain 56 calories and claim to be high in fibre.
They will launch at Asda and Sainsbury's this month (rsp: £1.50/3x14.5g).
The launch will be backed by a marketing push spanning PR, social, digital and out-of-home.