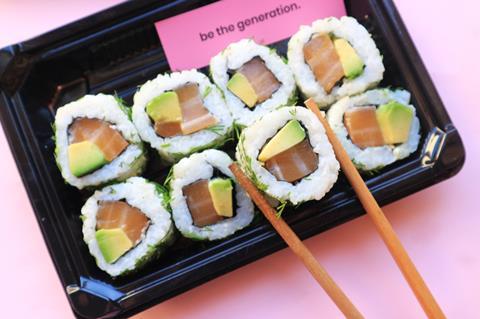 Planet Organic and Sourced Market have claimed a world first by launching plant-based 'salmon' sushi as part of their food-to-go ranges.

The organic food retailers have introduced the product from producer Ima. The vegan 'salmon' is made with marinated carrots and root vegetable konjac as a base, and the sushi also contains fresh dill and avocado.

Each piece is hand-rolled and sliced, and sold in 100% biodegradable trays. It is designed to appeal to vegans and non-vegans alike "without compromising on taste or texture",

Ima founder Jessica Chan claimed customers "won't be able to tell the difference" between its plant-based 'salmon' and the real thing.
She told The Grocer's sister publication Food Navigator: "We create sushi that is suitable for the present climate. Our oceans and fish levels are depleting at such a rapid rate that it's just not sustainable to continue eating fish sushi."

A spokeswoman for Planet Organic said: "We wanted to offer an alternative to traditional sushi for our vegan customers, but before Ima this wasn't readily available. We worked closely with Ima to develop a brilliant range of vegan sushi and are delighted to see the products on our shelves. The customer response has been equally positive."