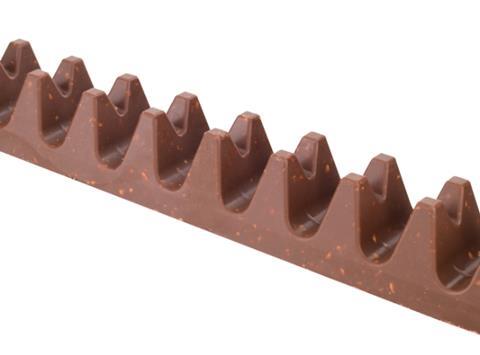 Poundland and Mondelez are in a legal wrangle over plans by the variety discounter to launch a Toblerone-style chocolate bar.
The Twin Peaks snack, scheduled to land on shelf earlier this month, has been delayed after Poundland received a legal letter from Toblerone maker Mondelez – which declined to comment on what is understood to be a trademark dispute.
Poundland would not offer a new launch date but insisted: "Twin Peaks is still in development." Last month, the retailer announced each 'mountain' of the copycat bar had a double peak – rather than Toblerone's single summit – while the chocolate & nougat bar weighed 180g, 30g more than the Toblerone of nearest equivalent size.
It was "not surprising" Mondelez should seek to prevent the launch of Twin Peaks, said trademark attorney Corinna Hiscox. "Toblerone is one of the world's most iconic chocolate bars, and its shape is one of the earliest registered three-dimensional trademarks in the UK.
"The owners of registered trademarks with a reputation are entitled to prevent the use of later trademarks that take unfair advantage, or cause detriment to their reputation or distinctive character, even if no actionable confusion may arise," added Hiscox, who is part of the intellectual property team at Ashfords LLP.
Nevertheless, Mondelez could face difficulties in winning a court's favour "given the differences in shape between the respective bars, and the prominence of the Twin Peaks name on Poundland's packaging" she added.
UK courts have proven reluctant to protect and enforce monopoly rights over the shape of products. In May, Mondelez successfully blocked Nestlé's latest attempt to trademark the shape of its Kit Kat.