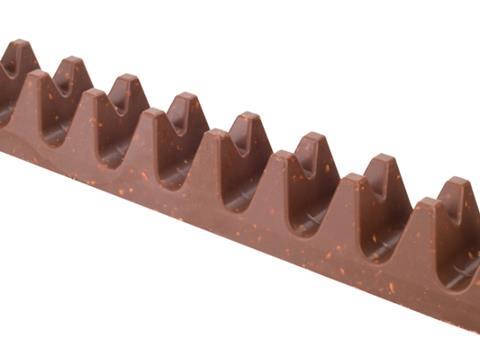 Poundland has unveiled a Toblerone-style bar called Twin Peaks.
Inspired by the top of Wrekin Hill in Shropshire, each 'mountain' has a double peak, while the chocolate-and-nougat bar weighs 180g – 30g more than the Toblerone of nearest equivalent size.
Created by Birmingham chocolatier Walkers Chocolates, the NPD will be available from July. It had "a distinctive British flavour compared to more traditional milk nougat bars from Switzerland", said Poundland.
The bar comes after Mondelez sparked outrage among consumers late last year by chopping triangles from the 400g and 170g Toblerone SKUs as a cost-saving measure – reducing their weights to 360g and 150g.
"Poundland shoppers are savvy, and the change in their favourite chocolate bar last Christmas didn't go unnoticed," said the retailer's trading director, Barry Williams. "That's why we've created a new £1 alternative for them – the size they wanted, with a British taste, and with all the spaces in the right places."
TV viewers will get a 'sneak peek' of the Twin Peaks bar tomorrow (20 June) during the ITV documentary Trouble in Poundland airing at 9pm.