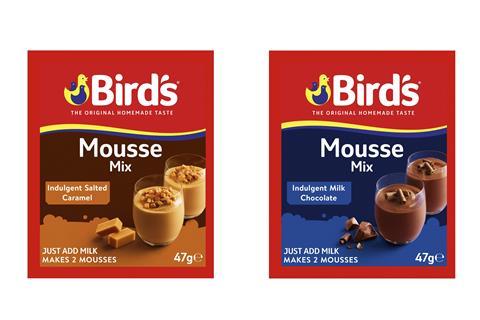 Premier Foods has launched a duo of mousse mixes under the Bird's brand.
The mousse mixes have launched in two flavours – Milk Chocolate and Salted Caramel – with each pack containing enough for two mousses and requiring only the addition of milk.
They hit Morrisons last week, with a wider release planned for later in the summer (rsp: 80p/47g).
The mousse mixes allowed shoppers to "make luxurious desserts at home that can be customised or tailored quickly and easily," said Premier Foods.
Its brand director for desserts Daniel Jalalpour said desserts that could be made at home had been "steadily growing in popularity" and the 'indulgent' flavours in this range "cater to people looking to get more involved in the kitchen to create great dishes with little or no fuss".
It marks the first non-seasonal NPD launch for Bird's since its easy-to-make custard granules in 2018.