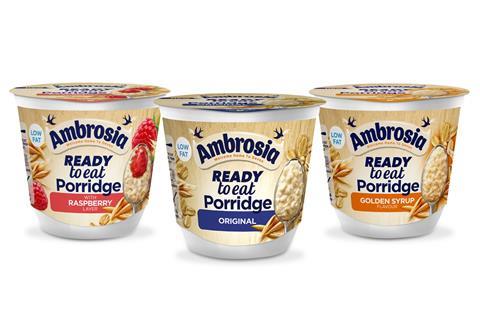 Premier Foods is targeting the on-the-go breakfast market with a trio of ready-to-eat porridge pots launched under its Ambrosia brand.
Three flavours – Original, Raspberry and Golden Syrup – will roll into retailers this month (rsp: £1/210g).
They are HFSS compliant, with less than 3% fat per pot.
As they could be eaten either ambient or hot, with no need to add water, they were ideal for shoppers seeking a convenient breakfast option, said Premier Foods.
"Porridge has become a hugely popular breakfast choice with consumers, especially over the past 18 months as we have all spent more time at home," said Premier Foods brand director for desserts Daniel Jalalpour.
"We wanted to give retailers the opportunity to offer their shoppers a tasty, convenient version of their favourite breakfast from a trusted brand – perfect for those mornings you're short on time," he added.
The launch will be supported with an in-store and online campaign, titled 'Wake up to breakfast', which will include branded PoS materials and digital advertising.
It comes after Premier Foods last year targeted the sweet snacking market with the launch of ambient Mousse and Desserts pots via its Ambrosia brand.
As reported by The Grocer, the ambient giant saw sales fall by 6.5% to £394.1m in the six months to 2 October 2021 as shoppers started to eat out of home again.