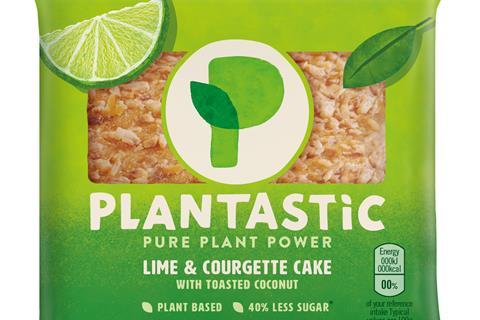 Premier Foods is set to make a major play in plant-based snacking with the launch of new brand Plantastic.
It will appear on shelf towards the end of the year, offering on-the-go options made from grains, fruits and vegetables.
The first snacks will a mixed grains dessert pot range in Raspberry, Strawberry, Blueberry and Passionfruit, and a three-strong lineup of cake bars: Lime & Courgette Cake with Coconut, Apricot & Ginger Oat Bar with Chia Seeds, and Chocolate & Beetroot Brownie with Cocoa Nibs. Rsps will be announced at time of rollout.
Created to capitalise on the growing trends of flexitarianism and veganism, Plantastic would go on to add further NPD to "ultimately span multiple categories to give health-conscious shoppers a consistent branded solution when seeking plant-based products on the go" Premier said.
"Consumer testing results show that the products have wide consumer appeal, particularly with younger shoppers, who are among those driving the overall move towards plant-based diets," said company MD Alex Whitehouse.
Plantastic was "a ground-breaking launch for Premier Foods" he added, The brand marked a "significant achievement for our technical team, who had to develop innovative solutions to deliver high-quality products using plant-based ingredients".
First details of the new brand – part of Premier's ongoing efforts to make its portfolio healthier – were revealed this morning when the company announced its annual results. It reported a loss of £42.7m as impairments and pension charges hit its bottom line, though core profitability improved in a further sign of "consistent progress".
Total group revenues for the 52 weeks ended 30 March 2019 were up 0.6% to £824.3m, with branded revenue rising 1.4% to £679.2m and own label sales falling by 2.7% to £145.1m.