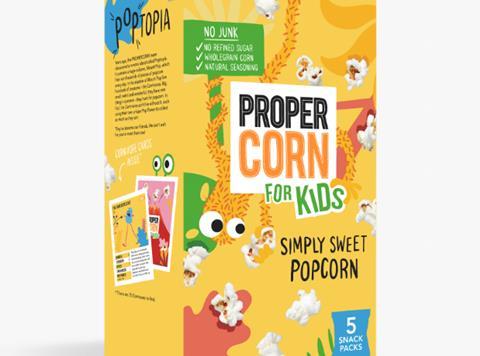 Propercorn has added its first popcorn lineup for children.
With an eye on lunchboxes and after-school occasions, Propercorn For Kids hopes to drive the "booming" popcorn category further with a two-strong range – Simply Sweet and Tomato Ketchup – made with wholegrain corn, natural seasonings and no refined sugar. Simply Sweet's sugar content per 100g is 17.6g, while fat is 17.7g and salt is 0.01g.
The NPD will land on shelf in mid-September in snack pack (12g) and multipack formats (5x12g). Rsps are 59p and £1.79 respectively.
The multipack contains two collectable cards featuring Cornivores, Propercorn's cartoon monsters. Kids are invited to draw their own character and upload it to social media, for the chance to see it made into a Cornivores card.
Propercorn For Kids' launch would be supported by "an extensive digital campaign, celebrating "the magical world of Poptopia, as well as the simple popping process behind each pack", said the brand.