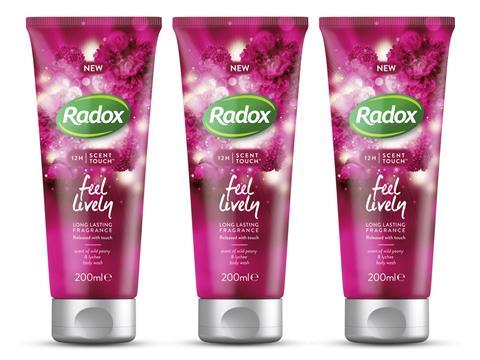 Unilever is set to extend its Radox portfolio with the introduction of Radox 12H Scent Touch Body Wash – a shower product for women the brand has hailed as 'groundbreaking'.
Available from next week, the NPD was the first range in the female shower category to use 'encapsulated fragrance release technology' similar to that used in the laundry and deodorant categories, said Radox. It allowed scent to be released during and after showering for up to 12 hours, it said.
The new lineup will be available in three variants: Feel Lively, featuring scents of wild peony and lychee; Feel Free, with notes of matcha green tea and coconut water; and Feel Fresh, which combines Arctic blueberry and patchouli (rsp: £3).
Each pack was designed to highlight the nature-inspired fragrances, and the tube format would encourage consumers to trade up, claimed Radox brand manager Georgia Wallis.
"Consumers love using fragranced products and want the scent from their shower gel or body wash to last outside of the shower," she added.
The new range is to be supported by a £2.2m spend, including digital, social and PR activity.