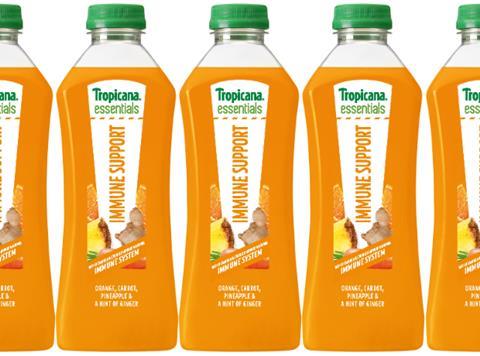 Tropicana is hoping to accelerate its sales revival with new variants across its portfolio of chilled juice and a makeover for its new core lineup.
The resurgent PepsiCo brand is this week cashing in on the new year's health and wellness fad with the addition of Immune Support to its Essentials selection – which relaunched in January 2018 as four juices containing the likes of carrot, orange, spinach, apricot, blueberry and passion fruit.
The sub-brand had since performed "extremely well, and continues to bring incremental shoppers to the category" said Caroline Wilding, marketing manager for Tropicana. "Functional juice is the fastest growing segment within chilled fruit juice, and Tropicana Essentials has established itself as a beacon brand, attracting shoppers to the fixture and helping them better understand what functional juices can offer."
Immune Support (rsps: £1.99/330ml & £2.99/750ml) – which comprises carrot, orange, pineapple and ginger – is being joined in chillers by three new core Tropicana variants: Apple, Raspberry & Redcurrant; Apple, Pear & Apricot; and Watermelon & Starfruit (rsp: £3.11/850ml). They will join a range that has been given a "dynamic" design overhaul, which had "been proven to increase purchase intent by 21% in early testing" according to PepsiCo.
It comes after Tropicana's value sales returned to the black after more than five years of decline. Having lost its place in 2017 to Innocent as the UK's number one juices and smoothies brand, Tropicana last year clawed back 0.9% of value, reaching £213.8m, as it tapped the trend for healthier soft drinks [Nielsen 52 w/e 8 September 2018].
Adults who drank juice were "70% more likely to achieve their five a day" said Wilding.