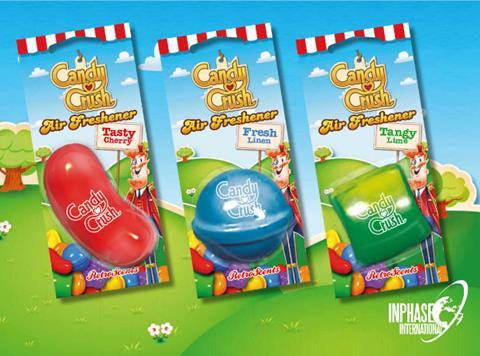 RetroScents, maker of in-car air fresheners and fragranced accessories, has announced a licensing deal for a range of products based on Candy Crush Saga, King.com's online game with 64 million monthly unique users.
Expected to be available from March 2017, the NPD will join a range of products that includes Love Hearts, Drumsticks and Parma Violets air fresheners.
The company was founded in 2008, and has since then signed licensing deals with Disney, Columbia Pictures and Universal Studios to produce SKUs based on characters from movies such as Star Wars: The Force Awakens, Angry Birds and the forthcoming Finding Dory. Its products are stocked by Asda, Morrisons, Sainsbury's, Tesco, Wilko, Euro Garages and MRH.
The makers of Candy Crush liked RetroScents' approach to the market and "loved our research and development team, who are experts in the world of fragrances", said sales director Gary Digva. "Nostalgic air fresheners like ours have a broad appeal, and we're excited to be doing business with such a big global player as Candy Crush."