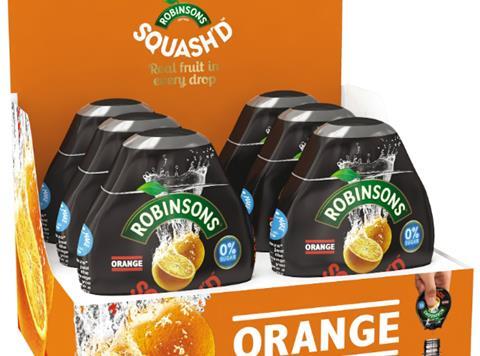 Robinsons has overhauled its Squash'd lineup with the introduction of an orange variant and a fresh pack design.

Rolling out now, Orange Squash'd has replaced Orange & Peach and was the pocket-sized range's most requested flavour ever, according to Robinsons. It has been poured into a revamped bottle format that highlights the on-the-go fruit concentrate's 0% sugar credentials (rsp: £2/66ml).

A bottle of Squash'd was sold every seven seconds in the UK, said Kevin McNair, GB marketing director at Robinsons owner Britvic. The range is set to be the subject of a campaign, Hydration, early next year, including TV advertising from January. This would follow "brilliant success in 2016", McNair added.

Cases of 12 one-litre bottles of Robinsons Orange cordial will feature neck hangers promoting the new Squash'd flavour during its launch period.